Ellie has been begging me to redecorate her room forever, but since the biggest thing her room needs is paint, and we only bought Springbrook Ranch two years ago allowing us to paint, she has had to wait in line behind a couple other projects.
I've also been struggling to figure out exactly what to do in her little room. It is super tiny with a really low ceiling, like so low I can touch it. Ideally we'd like to gut the whole downstairs, lower the floors and re-do everything...but it is certainly not the most important thing on our list. It will be a long time before we do that. I thought maybe I'd just leave everything how it is until we can demolish and rebuild, but if I do that Ellie may move out before we fix up her room.
Also, I WANT PRETTY. Enter project "cosmetic fix for tiny, dark, cabin-like bedroom." I've been looking at tons of teen girl rooms online and reading up on organizing small spaces and how to deal with low ceilings and I've finally put together a plan. Wanna see?
Here's a look at her room when I'm standing in her doorway.
And here is the requisite digital mock up of my elaborate plans.
1. Paint the walls white. Ellie wants blue but she isn't into a pale blue; she wants serious electric blue which will make the room seem even more closed in. We've agreed to compromise and paint the walls white and get some punchy accessories.
Here is my inspiration picture for white wood paneled walls-and as a bonus, we have that bed in our guest room.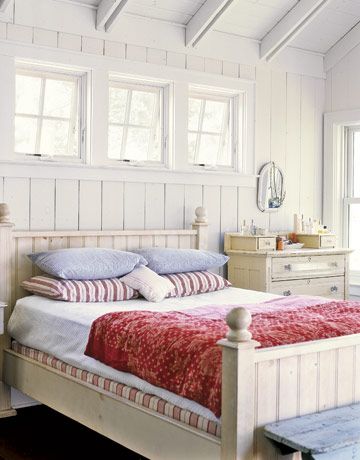 2.I need to apply the first rule of curtain hanging and move the curtain rods right up to the edge of the ceiling. Ellie can't sleep unless it's super dark so I'm going to hang some simple blackout curtains and then sew up some fun curtains in a bright vertical to go over them.
3. Those white lines between the windows are my artistic version of simple shelves to hold the ever growing stuffed animal hoard.
Her bed right now is an awesome white trundle but as far as twin beds go it takes up a lot of room physically and visually.
4. We plan to replace it with a metal framed bed. I'm digging this one right now but we're looking at daybed options too.
Across from her bed is her desk, which I cleaned up for the photoshoot, but is generally covered in clothes and nail polishes and superfluous papers and what I'm saying is she absolutely cannot use it for the purpose of homework because the top is buried under a foot of tween girl effects.
So the plan is to ditch the desk and put a TV there with her Wii hooked up to it so she can play with her friends. Don't worry, we won't have cable installed or anything.
You can also see in this photo that the wood floors are in rough shape. I considered refinishing them but am probably just going to paint the whole floor in a grey blue or something.
We're also replacing her white IKEA dresser with one I picked up from Craigslist and plan to paint. I'm super excited because Ellie already picked out the paint for it and she chose this beautiful persimmon color. All by herself she picked it because she said it would look good with her blue bedding! Yes, my heart is swelling with design pride. Blue is her main color love and I was sure I'd be painting that dresser blue. Here is a picture of a random persimmon dresser just so you can get excited with me.
Glorious, no?
And finally, we'll hang some framed comic books 'cause comics is what she likes.
Like this, only six of them, hung closer together, probably with black frames and, of course, with Batgirl and Wonder Woman comics.
Awesome, right? I can't wait!
(you can see the finished room here.)